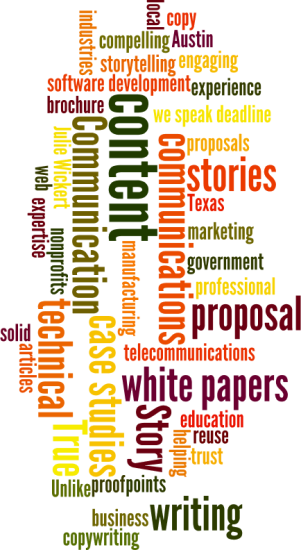 What's our story?
True Story Communication is a woman-owned business founded in 2008 by Julie Wickert and based in beautiful Austin, Texas. Julie is a longtime communications professional who brings to the company more than 18 years experience communicating complex concepts to humans. Having started her writing career as a stand-up, face-to-face trainer (teaching technical drawing at a community college), she is exceptionally sensitive to focusing on "what's in it for me" for a given audience.

Julie has worked in a broad array of capacities, including as a marketing communications specialist, proposal manager, business development analyst, and technical writer. Similarly, her career has spanned a multitude of industries, including telecommunications, software development, local government, manufacturing, education, and more.

True Story Communication has access to a vast pool of talent to fulfill your business communication needs.

Contact us for a quote or to learn more.