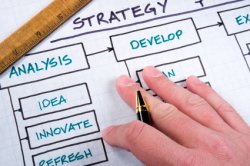 When a Request for Proposal (RFP) lands on your mountain of work, does your team have the bandwidth to respond effectively? Do you run the risk of missing out on new business - or losing existing business - because your proposal misses the mark? Compliance, deadlines, evaluation criteria, win strategies - got them covered?

In a competitive procurement, your proposal may make the difference between winning and losing. Producing an RFP response that is compliant, compelling, and competitive - all within a hard and fast deadline - can stretch your team to the limit. With professional proposal development assistance, you can:
Tackle bigger deals
Get better results
Reduce the risk of lost opportunities
Free your team to focus on keeping current customers happy
Let True Story Communication pitch in when proposal efforts overwhelm, or when you just need a sharper competitive edge. From RFP analysis to win strategy assistance to schedule management to content production, we beef up your chances to win.

Contact us for a quote or to learn more.



"Julie has excellent talents for understanding the issues, absorbing what the rest of us say about the solution, and then turning it into words within an organized structure. She is a pleasure to work with, talented and extremely dedicated to getting the job done right. She is definitely one of the best proposal writers that I have ever worked with."

John Rickerby, Regional Sales Manager, Manatron Inc.